V The Hierophant
The Hierophant is a Major Arcana Tarot card, the significance of Major cards is that they flag up something of overall importance in life, as each one focuses on a universal theme. The Major cards then, are not just about the flow of trivial, day to day events, each one presents some sort of life lesson that needs to be taken in and understood. To me, this card is saying there are ways of doing things and that I need to notice where this is operating in my life and respect it.
The Hierophant is typically associated with traditions, ceremonies and rituals - some examples of long-established ways of doing things. A ritual is designed to be repeated over again; a ceremony marks an occasion or links with a rite of passage. This may come with a piece of paper that marks the occasion - such as a marriage certificate. Traditions are sets of protocols with certain rules and may include social manners as well as creating a certain structure to events. Sometimes the theme with this card, therefore, is playing by the rules or accepting the procedure of filing in forms, where everything is streamlined within a system.
This card used to be called The Pope in ancient Tarot decks and often bears the image of a religious authority. There is the sense here of a figurehead who is intended as God's ambassador and, ideally, a protective force. The card features two crossed keys, which symbolise entry into the kingdom of heaven - or some other inner sanctum or place of spiritual bliss.
How is the Hierophant relevant to me currently? Recently, I needed to complete a form for a Tarot association that I belong to, relating to my professional status. My professional reader and tutor listings have been in place there for some time but the organisation wants to streamline the way that information is presented, so they have produced a special form which everyone must complete. I tend to naturally dislike the uniformity of forms, rules and bureaucracy. However, I see that they serve a positive purpose and are designed to protect everybody. Equally, the way that the association needs to present material may fall in line with its mission statement or ethic, which are also themes that link well with the Hierophant, together with its theme of a spiritual practice of Tarot card reading - albeit not tied to the conventional religions of the day.
Suggested Keywords: gateway, teacher, mentor, guide, alignment, traditions, rituals, reverence, respect, mission, doctrine, ethics, spiritual, moral, guidelines, ceremony, official forms, certificates, protocol, format, procedure, the "done thing".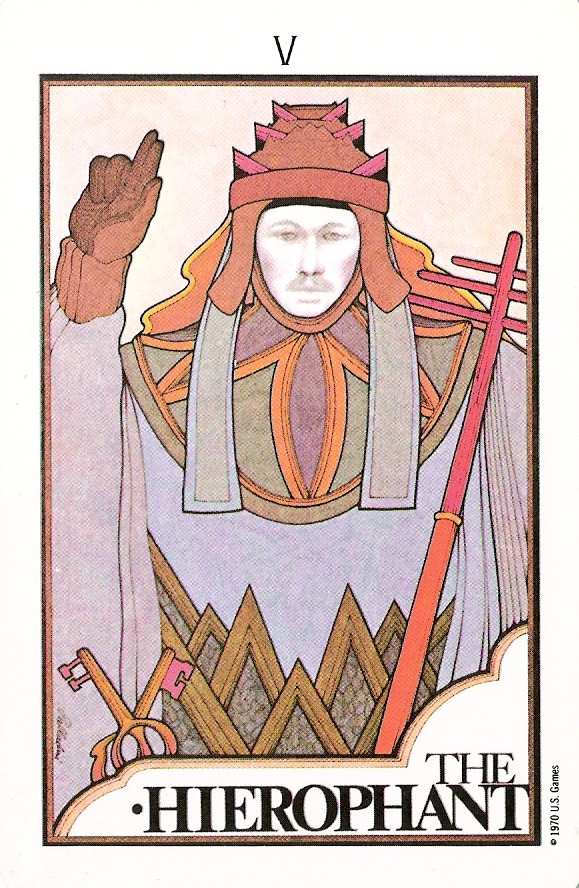 Image of the Hierophant from the Aquarian Tarot - Copyright US Games Systems Inc 1970