The Tarot Log has been a bit neglected and I apologise for that.  I notice that the post on the Hierophant seems quite popular - visitors do seem to read that (although maybe too shy to post thoughts - apologies if I didn't make the invitation to do so very clear!). 
Currently the log is taking a new turn and focussing especially on tarot for recovery work.  That is, looking at tarot from the point of view of understanding the self at a deeper level and changing difficult patterns.
The card of the moment is the Nine of Cups.  This features a man who sits in front of a row of cups.  He is well dressed and a little on the "tubby" side.  His arms are folded in front of himself.
We could say that the cups represent trophies - signs of his success.  This tells us that this is a man who likes to achieve.  He is ambitious.  He has entered into things and come out successful.  Or relatively successful, at least.  Those are nine cups after all, not yet ten - which is the number of completion in the Minor Arcana of the Tarot.  To many people nine out of ten might be pretty good.  But for this man it's not quite enough.  It's not one hundred percent; it's ninety percent, as it were.
This is part of this fellow's problem - nothing is ever enough!  Hence his tendency, perhaps, towards being a bit portly.  He puts weight on because he needs "just one more" of whatever it is he's eating. 
Of course there is an up side to this card.  In many ways it is a naturally positive card.  It represents wishes and is said, in traditional tarot meanings, to indicate that you will get your wish.  I think it is also a card that suggests counting our blessings.  Are there ever enough blessings?  Of course there are!  There are however many there are supposed to be - just maybe not always granted all at once!
I am reminded of this card when I hear people say things like "The only thing with that is...." - and they are about to launch into a gripe about something that was otherwise pretty good.  Also, when I hear someone focussing on how they were disappointed with something, whilst forgetting to focus on the good stuff.  It is as though that ten percent that was "missing" suddenly becomes all important - and none of the success that those brilliant cups ought to stand for means anything at all!
This card could be about satisfaction but in some ways it isn't.  It is about dissatisfaction.  Or lack of satisfaction.  The thirst has not yet been quenched.  When directed at the self it can represent a relentless taskmaster - the boss or parent who can't yet manage to say "well done that's really good" and leave it at that.  They either fail to praise or have to add on "what's next?" or "and you could do better" or "now go and do X".  I think that a good counter card for this would be either the Six of Wands, which shows Victory, the Four of Swords, which indicates the need for rest and a break or the Four of Wands which can mean success and taking a holiday.
That's what I see in this card today.  What about you?  Why not share your experiences of or observations about the 9 of Cups in the comments area below?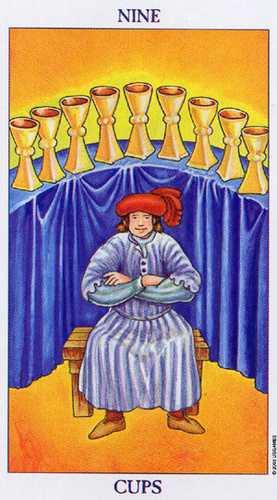 Image from the Radiant Rider Waite Tarot, Copyright US Games Systems Inc. 2003